Silent Diesel Generator Set Engine Power By Lovol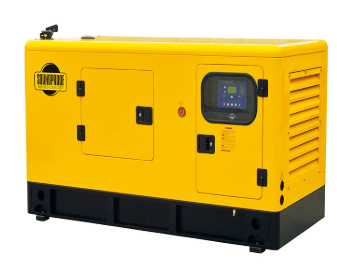 Lovol Generator Set General Data
■Available for voltages 400/230V, 480/277V, 380/220V, 440/254V, 416/240V,220/127V, 208/120V
■All data based on ISO 3046, altitude 100m (328ft), barometric pressure 100kPa (29.53inHg), air temperature 25℃ (77°F), relative humidity 30%.
■Please contact with ZOZHI engineer for correct generator capacity selection when the load application can't meet with the standard reference.
■ZOZHI diesel generators comply with standards:ISO8528,ISO14000,ISO3046,GB755,BS5000,VDE0530,IEC34-1
Standard Configuation
Engine: LOVOL, including air filters, fuel filters, oil filter, starting motor and charging alternator, etc
Alternator: brushless AC alternator
Radiator: 50℃, fan protective shroud
Base frame: ≤550KW: base mounted fuel tank, anti-vibration pads, battery holder
>550KW: channel steel base frame, anti-vibration pads, battery holder
Circuit Breaker: ≤1250A: Molded case circuit breaker(MCCB)
Control System: DEEP SEA 6020
Start Battery: Dry charged battery available for 6 times starts under standard condition; connection cables.
Installation Accessories: Bellow, Elbow and flange, Exhaust silencer, etc.
Tool : ZOZHI standard
Documents: Electric drawing, operation & maintenance manual, certification, etc
Silent Diesel Generator Set 50HZ Model List
| | | | | |
| --- | --- | --- | --- | --- |
| Genset Model | Standby Power | Prime Power | Engine Model | NO. of Cylinder |
| YNS30P | 30kVA | 39kVA | 1003G | 3 |
| YNS34P | 34kVA | 39kVA | 1003G | 3 |
| YNS41P | 41kVA | 60kVA | 1003TG | 3 |
| YNS47P | 47kVA | 60kVA | 1003TG | 3 |
| YNS41PI | 41kVA | 55kVA | 1004G | 4 |
| YNS47PI | 47kVA | 55kVA | 1004G | 4 |
| YNS50P | 50kVA | 55kVA | 1004G | 4 |
| YNS55P | 55kVA | 95kVA | 1004TG | 4 |
| YNS66P | 66kVA | 95kVA | 1004TG | 4 |
| YNS77P | 77kVA | 95kVA | 1004TG | 4 |
| YNS95P | 95kVA | 116kVA | 1006TG1A | 6 |
| YNS100P | 100kVA | 116kVA | 1006TG1A | 6 |
| YNS110P | 110kVA | 128kVA | 1006TG2A | 6 |
| YNS130P | 130kVA | 149kVA | 1006TAG1A | 6 |
| YNS150P | 150kVA | 168kVA | 1006TAG | 6 |
| YNS165P | 165kVA | 189kVA | 1106C-P6TAG2 | 6 |
Silent Diesel Generator Set 60HZ Model List
| | | | | |
| --- | --- | --- | --- | --- |
| Genset Model | Standby Power | Prime Power | Engine Model | NO.of Cylinder |
| YNS37P | 37kVA | 38kVA | 1003G | 3 |
| YNS55P | 55kVA | 63kVA | 1003TG | 3 |
| YNS51P | 51kVA | 55kVA | 1004G | 3 |
| YNS55P | 55kVA | 55kVA | 1004G | 4 |
| YNS69P | 69kVA | 95kVA | 1004TG | 4 |
| YNS77P | 77kVA | 95kVA | 1004TG | 4 |
| YNS89P | 89kVA | 95kVA | 1004TG | 4 |
| YNS107P | 107kVA | 121kVA | 1006TG1A | 4 |
| YNS125P | 125kVA | 135kVA | 1006TG2A | 6 |
| YNS151P | 151kVA | 168kVA | 1006TAG | 6 |
| YNS177P | 177kVA | 179kVA | 1106C-P6TAG2 | 6 |
| YNS193P | 193kVA | 194kVA | 1106C-P6TAG3 | 6 |
| YNS216P | 216kVA | 218kVA | 1106C-P6TAG4 | 6 |
Silent Diesel Generator Set Engine Power By Perkins more products