Generator Set Power By Cummins 80KW/100KVA 6BT5.9-G2
Generator Set Power By Cummins Description
1. Adopting Cummins's updated product design, optimized material selection, advanced manufacturing process,and production technology.
2. All are in line with Cummins's global standards.
3. By long time testing, the Gensets have been proved to be excellent with longer duration, higher quality, more reliable performance, and lower maintenance cost.
4. The parts are manufactured by CCEC or excellent suppliers of CCEC.
5. TS 16949 to ensure quality product quality.
6. Sharing Cummins global resources to make you no worry to buy and use genuine Cummins parts.
It performs very well under different conditions. It has noise control, acoustic enclosures,and awnings. The overall structure of the high-quality and durable generator cover is weather-proofed and anti-corrosive treated on the surface, and the output is made of pure polyester powder coating, which helps to enhance airflow emissions and forced ventilation in all uses. It has a sturdy structure, low fuel consumption, mechanical or electronic control, sensitive speed adjustment, reliable, easy maintenance, and long working capacity. Global service is reliable.
Generator set

GFS-C110

Prime Power

80kw/100kva

Standby Power

88kw/110kva

Frequency

50Hz

Diesel engine

Cummins 6BT5.9-G2

Alternator

ZOZHI alternator, Stamford, Marathon, Leroy Somer,Mecc Alte

Controller

DSE 6020

Circuit Breaker

DELIXI

Type

Open/Silent type

Fuel Tank

Base Fuel Tank under 550kw,External Daily Fuel Tank above 550kw

Optional products

Container, Parallel Cabinet, Automatic Transfer Switch

ZOZHI Generator Supply Scope

1.Engine

Brand-new engine

2.Alternator

Brand new brushless alternator,Single bearing, IP21/22, H insulation class

3.Base Frame

Heavy duty steel base frame

4.Radiator

40

℃

for open type, 50

℃

for soundproof type

5.Vibration Damper

Vibration damper between Engine/Alternator and base frame

6.Silencer

Industrial silencer with flexible bellow and elbow

7.Filters

Air filter,Oil filter andFuel filter

8.Battery

Electric start and 24V charger. 12/24V storage batteries

9.Fuel Tank

Average 8 hours base fuel tank

10.Tool Kits & Manuals

Standard tool kits and complete operation/maintenance/manuals

ZOZHI Generator Options

1: Automatic Transfer Switch

2: ABB and Schneider Breaker

3: Water Heater

4: Lub-oil Heater

5: 50

℃

-55

℃

Radiator

6: Fuel level sensor

7: Low coolant level sensor

8: Extra ail, oil and fuel filters

9:External Daily Fuel Tank

10: Water-Fuel Separator

11: Controller options: DSE6020, DSE7320, DSE8610, IL-NT AMF20, IC-NT SPtM, IC-NT MINT, IG-NT-GC
Generator Set Power By Cummins Data
50HZ-1500PRM SILENT TYPE

Model

Standby

Prime Power

Engine Model

Alternator Model

Dimension MM

N.W.KG

KVA

KW

KVA

KW

GFS-C28

28

22

25

20

4BT3.9-G1/24KW

PI144E

2600*1130*1615

1230

GFS-C28

28

22

25

20

4BT3.9-G2/24KW

PI144E

2600*1130*1615

1230

GFS-C41

41

33

37.5

30

4BT3.9-G1/36KW

PI144J

2600*1130*1615

1230

GFS-C41

41

33

37.5

30

4BT3.9-G2/36KW

PI144J

2600*1130*1615

1230

GFS-C62

62

50

56.25

45

4BTA3.9-G2/50KW

UCI224E

2800*1130*1615

1480

GFS-C94

94

75

85

68

6BT5.9-G1/92KW

UCI224G

3200*1130*1715

1720

GFS-C94

94

75

85

68

6BT5.9-G2/92KW

UCI224G

3200*1130*1715

1720

GFS-C110

110

88

100

80

6BT5.9-G2/92KW

UCI274C

3200*1130*1715

1770

GFS-C125

125

100

113.8

91

6BTA5.9-G2/110KW

UCI274D

3200*1130*1715

1770

GFS-C143

143

114

130

104

6BTAA5.9-G2/120KW

UCI274E

3200*1130*1715

1800

GFS-C165

165

132

150

120

6BTAA5.9-G2/140KW

UCI274F

3200*1130*1715

1850

GFS-C196

193

154

175

140

6CTA8.3-G2/163KW

UCI274G

3400*1130*1915

2200

GFS-C220

220

176

200

160

6CTAA8.3-G2/183KW

UCI274H

3600*1330*2065

2450

GFS-C275

275

220

250

200

6LTAA8.9-G2

UCDI274K

3600*1330*2065

2500

GFS-C344

344

275

312.5

250

MTAA11-G3/282KW

HCI444ES

4300*1422*2175

3800

GFS-C344

344

275

312.5

250

NTA855-G1B/284KW

HCI444ES

4300*1422*2175

3900

GFS-C378

378

303

343.8

275

NTA855-G2A/313KW

HCI444E

4300*1422*2175

4000

GFS-C413

413

330

375

300

NTA855-G7/343KW

HCI444FS

4600*1622*2515

5055

GFS-C418

418

334

380

304

6ZTAA13-G3

HCI444FS

4600*1622*2515

3800

GFS-C468

468

374

425

340

6ZTAA13-G2

HCI544C

4600*1622*2515

4000

GFS-C500

500

400

450

360

KTA19-G3/403KW

HCI544C

4600*1622*2515

5750

GFS-C500

500

400

450

360

QSZ13-G2/400KW

HCI544C

4600*1622*2515

4000

GFS-C550

550

440

500

400

KTA19-G3A/448KW

HCI544C

4600*1622*2515

5750

GFS-C550

550

440

500

400

KTA19-G4/448KW

HCI544C

4600*1622*2515

5750

GFS-C550

550

440

500

400

QSZ13-G3/450KW

HCI544C

4600*1622*2515

4000

GFS-C688

688

550

625

500

KTAA19-G6A/550KW

HCI544FS

4600*1622*2515

6090

GFS-C715

715

572

650

520

QSKTAA19-G3 NR2/574KW

HCI544F

4800*1822*2515

6090

GFS-C825

825

660

750

600

KAT38-G2/664KW

LVI634B

4800*1822*2515

8500

GFS-C880

880

704

800

640

KTA38-G2B/710KW

HCI634G

4800*1822*2515

8700

GFS-C990

990

792

900

720

KTA38-G2A/813KW

HCI634H

4800*1822*2515

8800

GFS-C1100

1100

880

1000

800

KTA38-G5/880KW

HCI634J

4800*1822*2515

9000

GFS-C1238

1238

990

1125

900

KTA38-G9/1089KW

HCI634K

4800*1822*2515

10000

GFS-C1375

1375

1100

1250

1000

KTA50-G3/1097KW

LVI634G

4800*1822*2515

15000
60HZ-1800RPM SILENT TYPE

Model

Standby

Prime Power

Engine Model

Alternator Model

Dimension MM

N.W.KG

KVA

KW

KVA

KW

GFS-C30/60

30

24

27.5

22

4B3.9-G1/27KW

PI144E

2600*1130*1615

1230

GFS-C30/60

30

24

27.5

22

4B3.9-G2/27KW

PI144E

2600*1130*1615

1230

GFS-C47/60

47

37

42.5

34

4BT3.9-G1/40KW

PI144J

2600*1130*1615

1230

GFS-C47/60

47

37

42.5

34

4BT3.9-G2/40KW

PI144J

2600*1130*1615

1230

GFS-C69/60

69

55

62.5

50

4BTA3.9-G2/60KW

UCI224D

2800*1130*1615

1480

GFS-C117/60

117

94

106.3

85

6BT5.9-G1/100KW

UCI274C

3200*1130*1715

1720

GFS-C117/60

117

94

106.3

85

6BT5.9-G2/100KW

UCI274C

3200*1130*1715

1720

GFS-C138/60

138

110

125

100

6BTA5.9-G2/120KW

UCI274D

3200*1130*1715

1770

GFS-C151/60

151

121

137.5

110

6BTAA5.9-G2/120KW

UCI274D

3200*1130*1715

1800

GFS-C184/60

184

147

167.5

134

6CTA8.3-G2/175KW

UCI274E

3400*1130*1915

2200

GFS-C220/60

220

176

200

160

6CTA8.3-G2/175KW

UCI274G

3600*1330*2065

2450

GFS-C275/60

275

220

250

200

NTA855-GA

UCI274H

4300*1422*2175

3900

GFS-C344/60

344

275

312.5

250

NTA855-G1/288KW

HCI444D

4300*1422*2175

3900

GFS-C385/60

385

308

350

280

NTA855-G1B/313KW

HCI444D

4300*1422*2175

3900

GFS-C433/60

433

347

393.8

315

NTA855-G3/358KW

HCI444ES

4300*1422*2175

3900

GFS-C481/60

481

385

437.5

350

KTA19-G2/392KW

HCI444ES

4300*1422*2175

4000

GFS-C564/60

564

451

512.5

410

KTA19-G3/463KW

HCI544C

4600*1622*2515

5750

GFS-C619/60

619

495

562.5

450

KTA19-G3A/507KW

HCI544D

4600*1622*2515

5750

GFS-C619/60

619

495

562.5

450

KTA19-G4/507KW

HCI544D

4600*1622*2515

5750

GFS-C743/60

743

594

675

540

KTAA19-G6A/577KW

HCI54E

4800*1822*2515

6090

GFS-C853/60

853

682.4

775

620

KT38-G/679KW

HCI544F

4800*1822*2515

8500

GFS-C1000/60

1000

800

906.3

725

KTA38-G2/809KW

HCI634G

4800*1822*2515

8500

GFS-C1100/60

1100

880

1000

800

KTA38-G2A/915KW

HCI634H

4800*1822*2515

8800

GFS-C1238/60

1238

990

1125

900

JTA38-G4/1007JW

HCI634J

4800*1822*2515

9000

GFS-C1375/60

1375

1100

1250

1000

KTA38-G9

HCI634K

4800*1822*2515

10000

GFS-C1513/60

1513

1210

1375

1100

KTA50-G3/1220KW

PI734A

4800*1822*2515

15000

GFS-C1719/60

1719

1375

1563

1250

KTA50-G9/1656KW

PI734A

4800*1822*2515

15000
50hz-1500Rpm Open Type
60hz-1800Rpm Open Type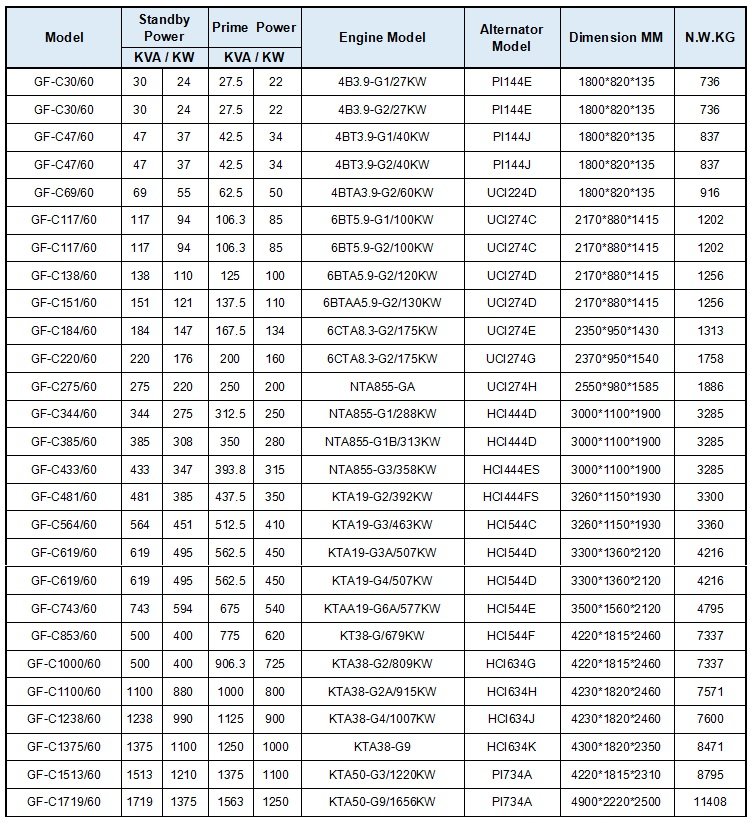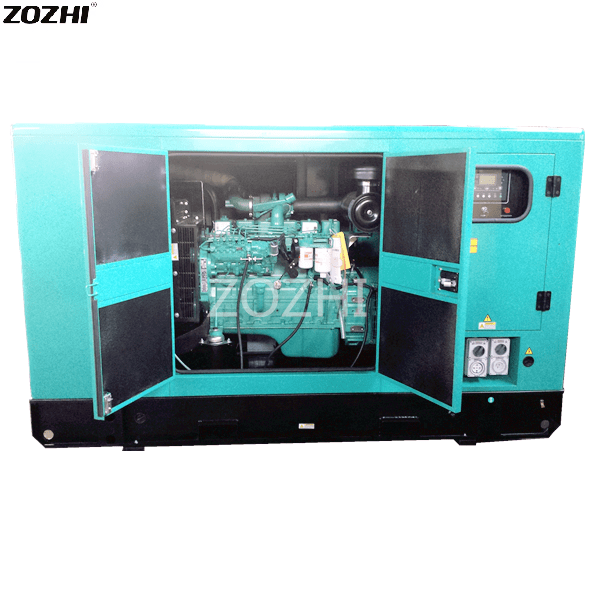 Generator Set Power By Cummins