Generator Set Power By Cummins 37.5KVA/30KW 4BT3.9-G1/G2
ZOZHI diesel generator sets are powered by Cummins engines and are easy to maintain. CE certification and international standard compliance make it ideal for a variety of applications, including remote areas. The new low-range 40 to 75 kVA generator set features a field-proven Cummins S3.8 series engine and a 50-liter fuel tank that provides 12 hours of performance at a 75% load. The new mid-size 90 to 125 kVA generator set (shown below) uses Cummins 6BTA5.9 series engines. Due to the larger 350-liter fuel tank capacity, they also provide more than 12 hours of automatic fuel driving. Both series have many features and options are available, including a muffler and a double-walled fuel tank
Open/Silent Diesel Generator Set

Genset

GFS-C41/GF-C41

Prime Power(KW)

30

Engine

Cummins 4BT3.9-G1/G2

Prime Power(KVA)

37.5

Alternator

PI144J

standby Power(KW)

33

Frequency(Hz)

50/60HZ

standby Power(KVA)

41

Phase/Voltage

Single/Three-phase 220V 400v/230v

Engine

PerkinsBrand/Original

Cummins

Type

4-Stroke, In-line, Water Cool, Electric Start

Governor

Electronic Governor

Engine power(KW)

36KW

Displacement(L)

3.9

Bore and Stroke(mm)

102×120

Radiator Water Tank

40℃/50℃

The capacity of Oil (L)

10.9

Prime Power Fuel

9.3

Aspiration Type

Turbochanger&

Consumption(L/h)

Aftercooled

Cylinder No.

6

alternator

Brand/Original

ZOZHI

Efficient

90%

Alternator Model

PI144J

Prime Power(KW)

30

Type

Brushless self-excited

A.V.R

AS440

Protection

IP21

Insulation

Class H

Winding Lead

12

Factor

0.8

controller

Brand/Original

Deepsea

Standard Item No.

DSE6020
Generator Set Power By Cummins Advantage
High-quality steel and paint processes
The canopy is made of high-quality steel and completely powder-coated. Painting is a three-step process that ensures protection against corrosion, scratches, and corrosion.
Advanced waterproof and dustproof
The control panel, service door, and machine cover are waterproof, which can effectively prevent rain and dust from entering.
Excellent anti-vibration equipment
The anti-vibration device between the engine, alternator and the base greatly reduces the vibration during operation, thereby ensuring stable operation.
All removable devices are firmly fixed, thus helping to reduce vibration.
information security
The machine is equipped with a monitoring system to help monitor operations in real-time.
Electrical Safety
The double protection of the cable connection panel reduces the possibility of accidental contact or water immersion.
The three-dimensional wiring design of all generator cables provides reasonable, accurate and complete protection.
The automatic switch-on circuit breaker with the undervoltage protection system inside avoids errors to the greatest extent.
The automatic control module for multi-directional monitoring can meet the needs of multiple levels and provide customers our thoughtful protection.
Operational safety
Take care to protect the heat sink and high-voltage parts from accidents caused by touch.
The control panel is lockable. Current transfer switches, voltage regulators and circuit breakers are installed behind the door.
Shockproof rubber mounts are installed on both sides of the door to avoid damaging the machine when the door is opened.
Lockable filler cap.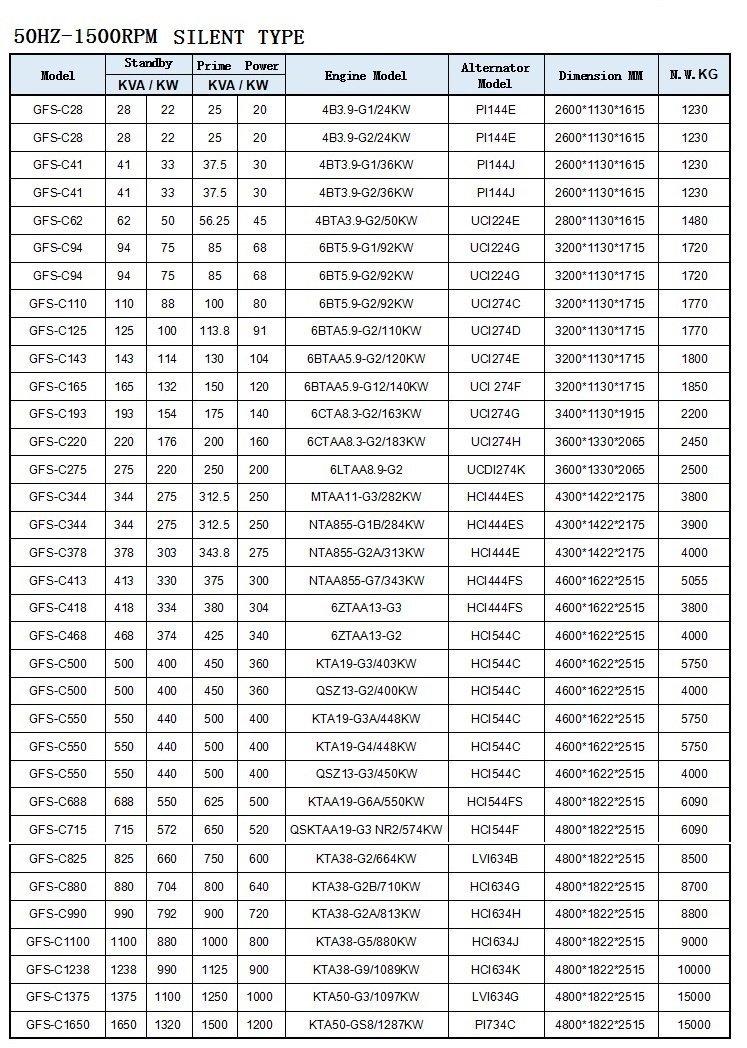 Generator Set Power By Cummins