Generator set Power by Perkins Engine Open/Silent 17Kva/13kw
Diesel generator sets remain the number one choice for global backup and emergency power systems. Perkins diesel generator set can start and bear the load in less than 10 seconds, and it can bear the rated load in one step. It is a solid and reliable representative, which reflects reliable mechanical and electrical performance. Diesel generators are also well-suited for utility peak power stations, distributed generation facilities (DG), peak shaving (or peak shaving) and power management in large commercial or industrial sites.
As a mature technology, Perkins diesel generators have the following main advantages:
Fast product availability
Proven reliability and lower life cycle costs
High efficiency and operational flexibility
High-quality electrical performance
Comprehensive service and fuel supply infrastructure
Optional factory-treated integrated exhaust reduces emissions for long-term use in environmentally sensitive locations.
Generator set Power by Perkins Description
| | |
| --- | --- |
| Generator set | GFS-P17, GF-P17 |
| Prime Power | 12kw/15kva |
| Standby Power | 13kw/17kva |
| Voltage | 400/230V |
| Diesel engine | Perkins 403A-15G2 |
| Alternator | ZOZHI Brushless Motor, Stamford, Marathon, Leroy Somer, Mecc Alte |
| Controller | DSE 6020 |
| Circuit Breaker | DELIXI |
| Type | Open/Silent type |
| Fuel Tank | BaseFuelTank under 550kw,External Daily Fuel Tank above 550kw |
| Optional supporting products | Container, Parallel Cabinet, Automatic Transfer Switch |
Generator set Power by Perkins Supply Scope
| | |
| --- | --- |
| 1. Engine | Brand-new engine |
| 2. Alternator | Brand new brushless alternator, Single bearing, IP21/22, H insulation class |
| 3. Base Frame | Heavy-duty steel base frame |
| 4. Radiator | 40℃ for open type, 50℃for soundproof type |
| 5. Vibration Damper | Vibration damper between Engine/Alternator and base frame |
| 8. Silencer | Industrial silencer with flexible bellow and elbow |
| 9: Filters | Air filter, Oil filter, and Fuel filter |
| 10. Battery | Electric start and 24V charger. 12/24V storage batteries |
| 11. Fuel Tank | Average8 hours base fuel tank |
| 12. Tool Kits & Manuals | Standard tool kits and complete operation/maintenance/manuals for Generator/Engine/Alternator/control panel, etc. |
Generator set Power by Perkins Options
1: Automatic Transfer Switch

2: ABB and Schneider Breaker

3: Water Heater

4: Lub-oil Heater

5: 50℃-55℃ Radiator

6: Fuel level sensor

7: Low coolant level sensor

8: Extra ail, oil and fuel filters

9:

External Daily Fuel Tank

10: Water-Fuel Separator

11: Controller options: DSE6020, DSE7320, DSE8610, IL-NT AMF20, IC-NT SPtM, IC-NT MINT, IG-NT-GC
Data
50HZ 1500RPM Silent Type

60HZ 1800RPM Silent Type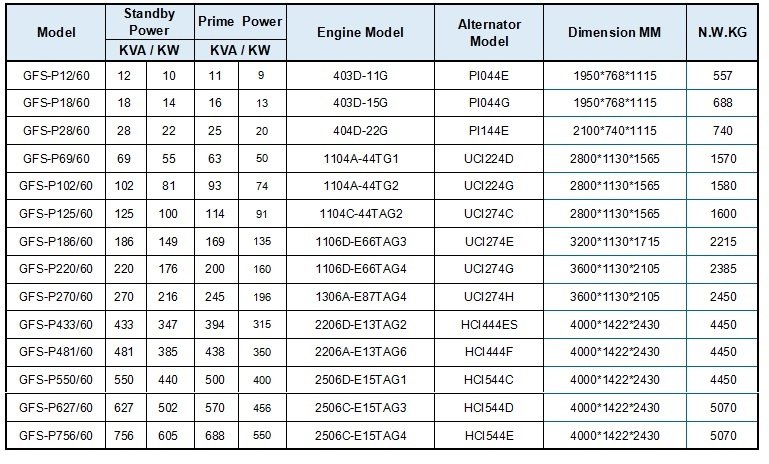 50HZ 1500RPM Open Type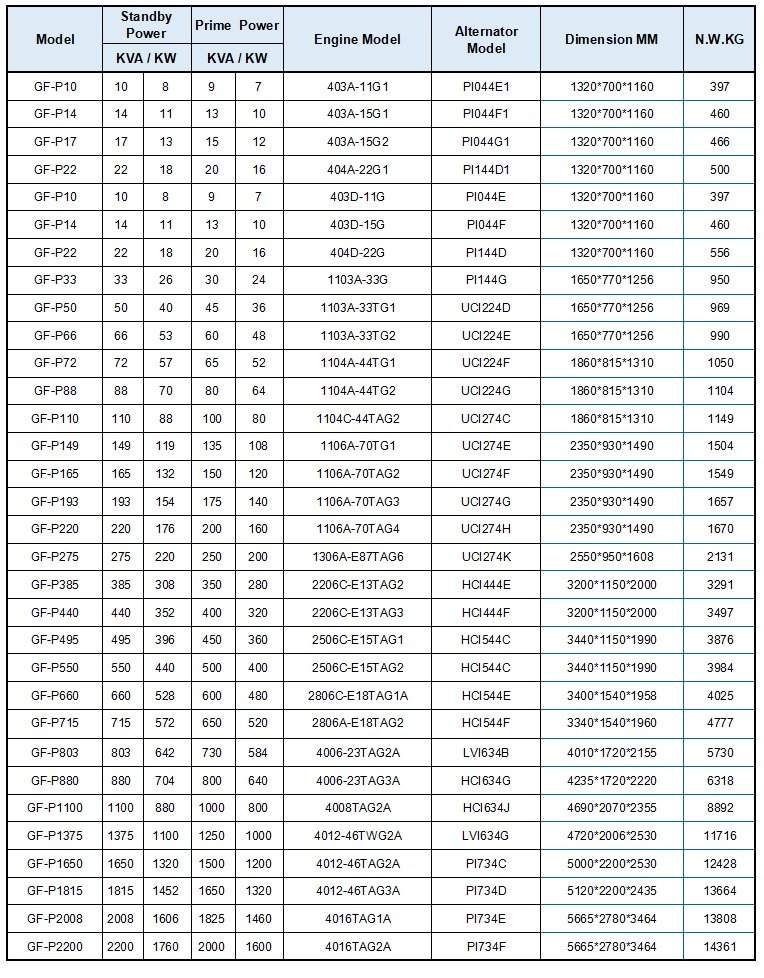 60HZ 1800RPM Open Type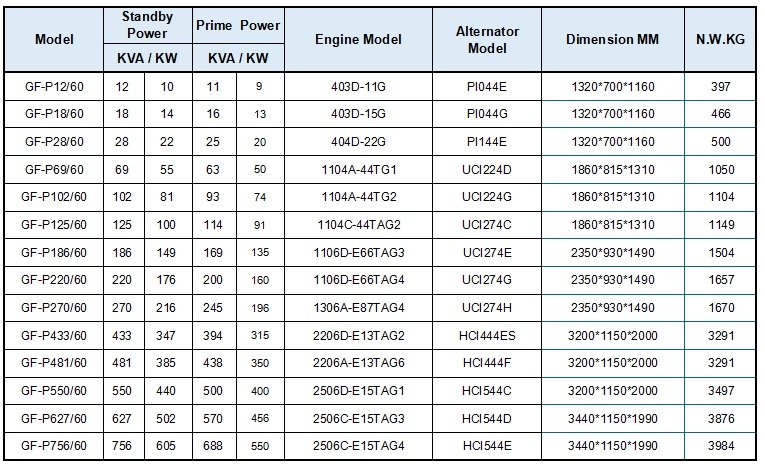 warmly
Before starting the new machine, fill the oil through the filler port. When filling, the engine should be placed in a horizontal position and pay attention to the change in oil level. After refueling, wait for a while to see the oil level on the oil gauge, that is, the oil level you see after the oil has flowed into the oil pan is the correct value. Each oil filter should be filled with clean oil before it can be installed on the engine.
Generator set Power by Perkins