Generator set Power by Perkins Engine Open/Silent 14Kva/11kw
Generator set Power by Perkins series water-cooled, diesel generators can increase output under a variety of noise adjustment conditions, suitable for 10kva to 2200kva diesel generator sound-absorbing rings.
This high-quality, long-lasting generator cover is weather-resistant and abrasion-resistant throughout the design. This process involves finishing output using clear polyester powder to reduce airflow and pressure ventilation.
This series of generators provide a space-saving structure, saves fuel, and is equipped with a mechanical administrator, featuring significant speed changes, reliability, and easy maintenance. In addition, it includes a reliable weather body, a low fuel tank, a breeze-rated housing, and ISO box, and bolted system expansion accessories.
The factory-certified generators of this series offer adaptable packaging regulations at an affordable price and high production efficiency. These products have passed UL SONCAP ISO9001 CE CCS EPA certification.
Description
| | |
| --- | --- |
| Generator set | GFS-P14, GF-P14 |
| Prime Power | 10kw/13kva |
| Standby Power | 11kw/14kva |
| Voltage | 400/230V |
| Diesel engine | Perkins 403A-15G1 |
| Alternator | ZOZHI Brushless Motor, Stamford, Marathon, Leroy Somer, Mecc Alte |
| Controller | DSE 6020 |
| Circuit Breaker | DELIXI |
| Type | Open/Silent type |
| Fuel Tank | BaseFuelTank under 550kw,External Daily Fuel Tank above 550kw |
| Optional supporting products | Container, Parallel Cabinet, Automatic Transfer Switch |
Supply Scope
| | |
| --- | --- |
| 1. Engine | Brand-new engine |
| 2. Alternator | Brand new brushless alternator, Single bearing, IP21/22, H insulation class |
| 3. Base Frame | Heavy-duty steel base frame |
| 4. Radiator | 40℃ for open type, 50℃for soundproof type |
| 5. Vibration Damper | Vibration damper between Engine/Alternator and base frame |
| 8. Silencer | Industrial silencer with flexible bellow and elbow |
| 9: Filters | Air filter, Oil filter, and Fuel filter |
| 10. Battery | Electric start and 24V charger. 12/24V storage batteries |
| 11. Fuel Tank | Average 8 hours base fuel tank |
| 12. Tool Kits & Manuals | Standard tool kits and complete operation/maintenance/manuals for Generator/Engine/Alternator/control panel, etc. |
Options
1: Automatic Transfer Switch

2: ABB and Schneider Breaker

3: Water Heater

4: Lub-oil Heater

5: 50℃-55℃ Radiator

6: Fuel level sensor

7: Low coolant level sensor

8: Extra ail, oil and fuel filters

9:

External Daily Fuel Tank

10: Water-Fuel Separator

11: Controller options: DSE6020, DSE7320, DSE8610, IL-NT AMF20, IC-NT SPtM, IC-NT MINT, IG-NT-GC
Data
50HZ 1500RPM Silent Type

60HZ 1800RPM Silent Type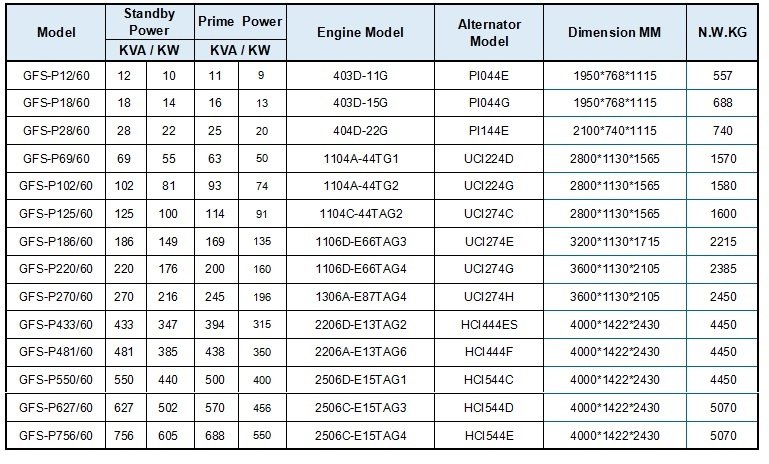 50HZ 1500RPM Open Type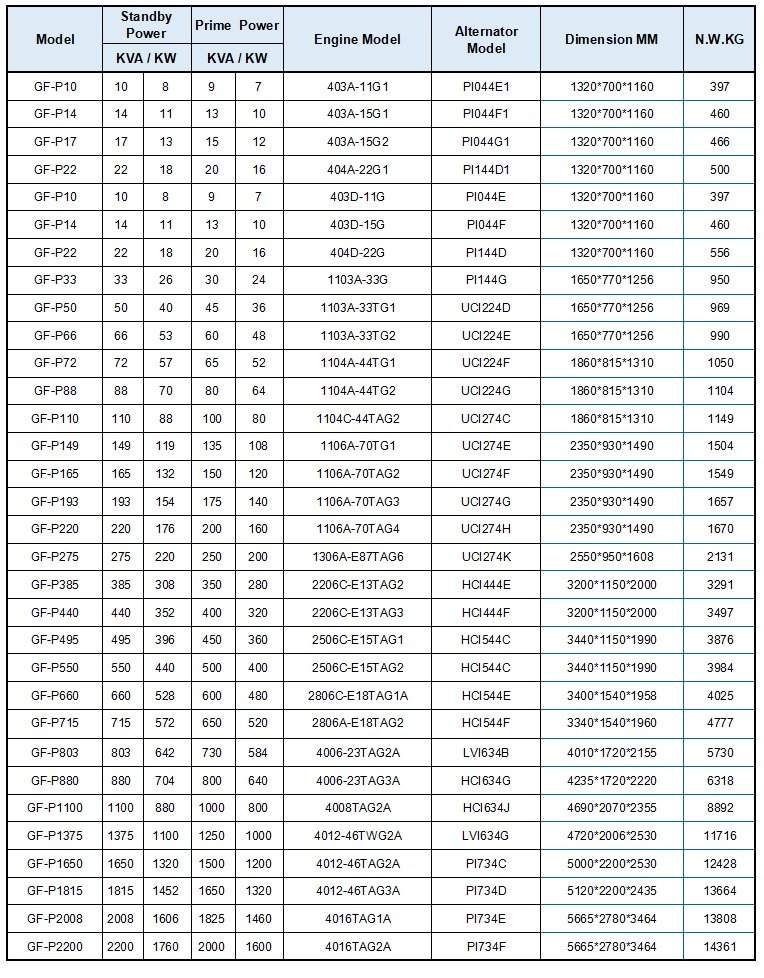 60HZ 1800RPM Open Type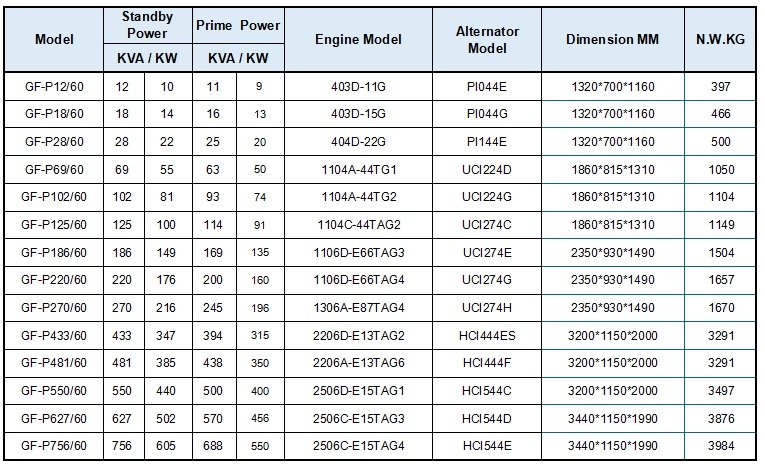 warmly
Lubrication system oil selection, one must select the appropriate oil viscosity, and the other must meet the American Petroleum Institute (AH) performance level. Perkins diesel generator sets require multi-stage viscosity oils because multi-stage viscosity oils are suitable for a wide operating temperature range and the consumption rate is about 30% lower than single-stage viscosity oils. The performance level of the engine oil represents the level of engine oil additives. For heavy-load engines, the additives that protect the engine are mainly the additives in the engine oil. As the additives are gradually consumed over time, only a sufficient level of engine oil can be used to ensure that the engine is in Reliable protection throughout the oil change cycle. Perkins recommends the use of engine oils that meet the following standards: If the ambient temperature is higher than -5 ° C, use 15W-40CF4, CG4, CF4 / SG, or CG4 / SH grades; when the ambient temperature is lower than -5 ° C Use 10W-30CF4, CG4, CF4 / SG, or CG4 / SH grade oil. B and C series engines must use CF4 / SG or CG4 / SH grade oil.
Generator set Power by Perkins