Generator set Power by Perkins Engine Open/Silent 10Kva/8kw
The water-cooled diesel generator set is powered by Perkins, which ensures the sound insulation of the equipment without neglecting the protection function of the equipment. This high quality and durable generator are surfaces treated to withstand all weather conditions. At the same time, it is also subjected to anti-corrosion treatment of pure polyester powder coating. The kit has features including compact structure, low fuel consumption, excellent reliability, and easy maintenance. The generator set is insulated with a soundproof foam bushing and equipped with an external emergency stop button. Full-length extra-wide doors ensure security, and each door has independent locks on both sides. It has full-length extra-wide doors with locks on each side.
Diesel generator set power by Perkins are characterized by low fuel consumption, stable performance, convenient maintenance, low operating costs, and low emissions. The models meet EPA II and III emission standards, making them ideal and commonly used power equipment
Committed to product quality, environment and economy; strictly implement ISO9001, ISO10004 international standards
Description
| | |
| --- | --- |
| Generator set | GFS-P10 / GF-P10 |
| Prime Power | 7kw/9kva |
| Standby Power | 8kw/10kva |
| Voltage | 400/230V |
| Diesel engine | Perkins 403A-11G1 |
| Alternator | ZOZHI brushless motor, Stamford, Marathon, Leroy Somer, Mecc Alte |
| Controller | DSE 6020 |
| Circuit Breaker | DELIXI |
| Type | Open/Silent type |
| Fuel Tank | Base FuelTank under 550kw,External Daily Fuel Tank above 550kw |
| Optional supporting products | Container, Parallel Cabinet, Automatic Transfer Switch |
Supply Scope
| | |
| --- | --- |
| 1. Engine | Brand-new engine |
| 2. Alternator | Brand new brushless alternator, Single bearing, IP21/22, H insulation class |
| 3. Base Frame | Heavy-duty steel base frame |
| 4. Radiator | 40℃ for open type, 50℃for soundproof type |
| 5. Vibration Damper | Vibration damper between Engine/Alternator and base frame |
| 8. Silencer | Industrial silencer with flexible bellow and elbow |
| 9: Filters | Air filter, Oil filter, and Fuel filter |
| 10. Battery | Electric start and 24V charger. 12/24V storage batteries |
| 11. Fuel Tank | Average 8 hours base fuel tank |
| 12. Tool Kits & Manuals | Standard tool kits and complete operation/maintenance/manuals for Generator/Engine/Alternator/control panel, etc. |
Options
1: Automatic Transfer Switch

2: ABB and Schneider Breaker

3: Water Heater

4: Lub-oil Heater

5: 50℃-55℃ Radiator

6: Fuel level sensor

7: Low coolant level sensor

8: Extra ail, oil and fuel filters

9:

External Daily Fuel Tank

10: Water-Fuel Separator

11: Controller options: DSE6020, DSE7320, DSE8610, IL-NT AMF20, IC-NT SPtM, IC-NT MINT, IG-NT-GC
Data
50HZ 1500RPM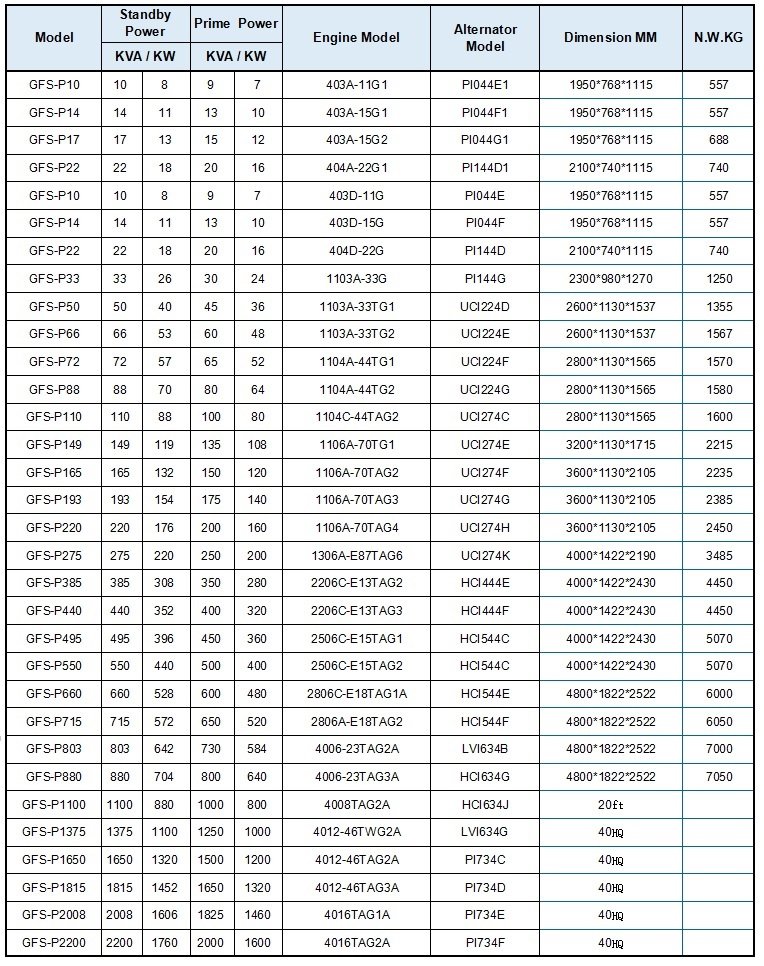 60HZ 1800RPM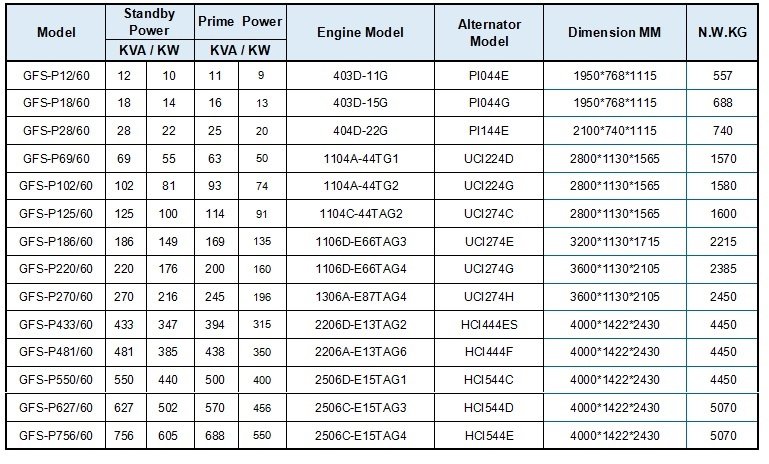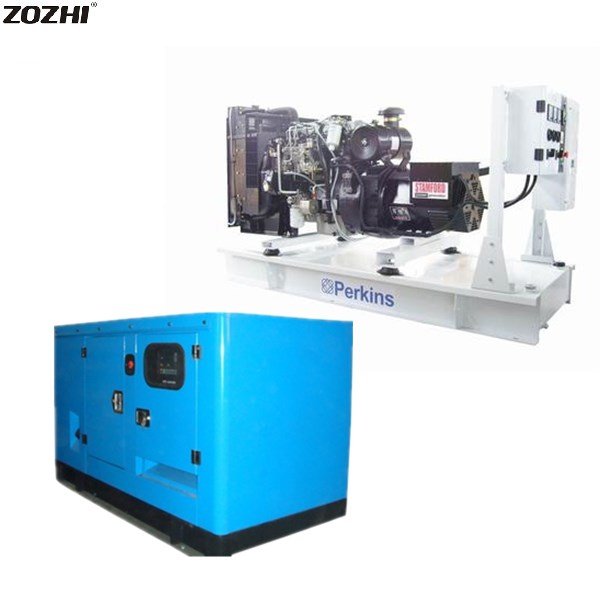 Warmly
Fill the coolant before starting the new Perkins diesel generator set. When filling, the vent valve of the cooling system on the upper part of the engine should be opened, and the coolant should be slowly added to the engine from the water inlet of the radiator water tank until there are no air bubbles and then discharged from the vent valve. The cooling liquid should be filled below the neck of the water inlet of the cooling water tank, and it should not be too full. After filling, close the bleed valve and open the shut-off door on the water filter mount so that the DCA4 additive can be mixed into the cooling system. The cooling liquid used in the cooling system should mainly consist of three components: pure water, antifreeze,and DCA4 additives. Each liter of the cooling liquid contains 50% pure water, 50% antifreeze and 0.5 units of DCA4 additives. The formulated coolant can be used all year round and can be used continuously for two years.
Generator set Power by Perkins