Hollow shaft electric motor 112M2-4 For Cleaning Machine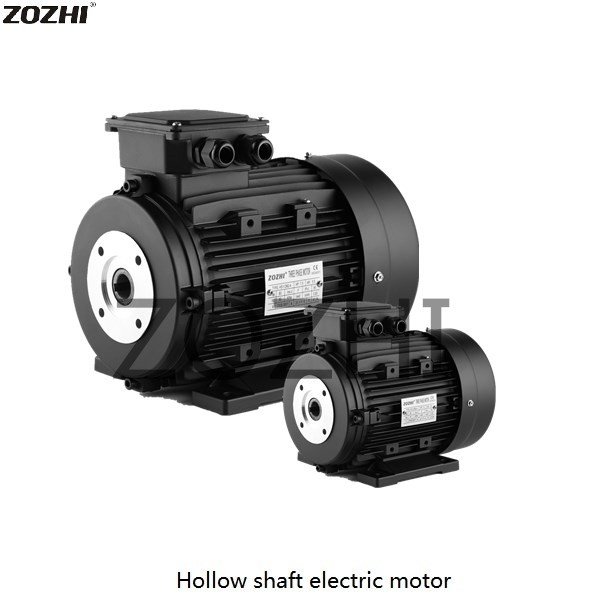 Mode: 112M2-4 Horsepower: 7.5
RPM:1400 Shaft Size:24mm Hollow
Voltage: 400V Hertz: 50
Motor housing: Aluminum Bearing: C&U
Shaft: C#45 Insulation: Class F
Protection: IP55 Installation: B3 Hollow shaft
Stator&Rotor: 1.Cold-rolled silicon steel sheet by high-speed punching machine. 2. 100% high-quality copper wire
Hollow Shaft Electric Motor Description
112M2-4 hollow shaft motor is an aluminum housing fully enclosed fan-cooled squirrel-cage AC asynchronous energy-saving motor. It adopts a hollow metal tube design, which greatly optimizes the mechanical design and maintains all the technologies of standard motors. The maintenance level saves design space and production costs. 100% copper coil, high-quality bearing, large starting torque, high reliability, compact structure, easy operation, low vibration, safe and reliable operation, high efficiency and energy saving. Ideal for cleaning equipment with increased pump combination
1.high-quality magnetic materials to ensure sufficient output power, small working current, effectively reduce temperature rise, good heat dissipation, and high efficiency.
2. the use of high-quality bearings, rigorous assembly process, to achieve low noise operation.
3. tailor-made for professional equipment, shaft extension through high-frequency quenching treatment, greatly improve the mechanical strength, seamless connection with equipment, to achieve worry-free operation.
Hollow Shaft Electric Motor Application
MOTOR CONTRUCTION SHAPE

WEIGH

RATED POWER OUTPUT

SPPD

VOLTAGE

FOR PUMP SERIES

KG

HP

KW

RPM

112M2-4

32

7.5

5.5

1450

400V

NMT
This hollow shaft motor with NMT series pump is particularly so suited for fitting on washing systems for the food industry or for car washes. It can operate at a maximum pressure of 200 bar and with water temperatures up to 65° (185F).

Hollow Shaft Electric Motor Data
FRAME

POWER

RPM

COSφ

EFF.%

VOLT

AMPERE

KW

HP

P.F.

V

A

711-4

0.25

0.35

1370

0.73

64

400

0.8

712-4

0.37

0.5

1350

0.74

68

400

1.1

713-4

0.55

0.75

1350

0.75

66

400

1.6

90L1-4

1.5

2

1400

0.82

78

400

3.4

90L2-4

2.2

3

1400

0.79

77

400

5.4

90L3-4

2.6

3.5

1400

0.80

78

400

7.4

100L1-4

2.2

3

1400

0.80

81

400

5.1

100L2-4

3

4

1410

0.80

81

400

6.9

100L3-4

4

5.5

1420

0.80

82

400

9.4

100M1-4

4.4

6

1420

0.82

83

400

10

112M1-4

4

5.5

1420

0.80

83

400

9

112M2-4

5.5

7.5

1430

0.82

84

400

12.1

112M3-4

6.2

8.5

1425

0.82

84

400

13.5

112L-4

7

9.5

1430

0.80

85

400

13.8

132S1-4

5.5

7.5

1430

0.82

84

400

11.7

132S2-4

7.5

10

1430

0.84

84

400

15.4

132M1-4

9.2

12.5

1430

0.90

85

400

17.8

132M2-4

11

15

1430

0.90

87

400

21.3

132M3-4

12.5

17

1430

0.88

84

400

26

160M1-4

15

20

1450

0.86

89

400

29

160M2-4

18.5

25

1450

0.86

90

400

34