Hollow Shaft Electric Motor 132M1-4 9.5KW 12.5HP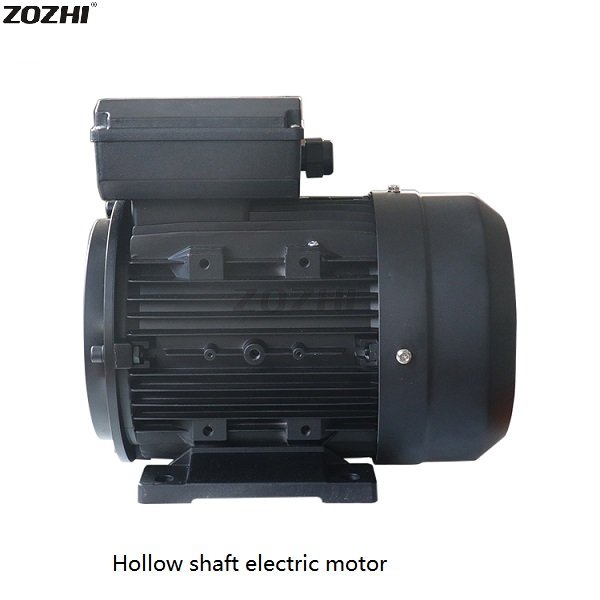 Mode: 132M1-4 Horsepower: 12.5
RPM:1400 Shaft Size:24mm Hollow
Voltage: 400V Hertz: 50
Motor housing: Aluminum Bearing: C&U
Shaft: C#45 Insulation: Class F
Protection: IP55 Installation: B3 Hollow shaft
Stator&Rotor: 1.Cold-rolled silicon steel sheet by high-speed punching machine. 2. 100% high-quality copper wire
Hollow Shaft Electric Motor Description
Three-phase squirrel-cage AC asynchronous aluminum housing hollow shaft motor, 100% copper coil, C&U bearing, high precision rotor. The current is small, the power loss is small, the heat dissipation is good, and the energy is high.
Hollow shaft motors have a wide range of applications and can be used as pumps, ventilation equipment, booster equipment, small hydroelectric generators, propellers, etc.
1. High-quality materials to ensure sufficient output power, small working current, low temperature, good heat dissipation, and high efficiency.
2. Use high-quality bearings, rigorous assembly process, to achieve low noise operation.
3. tailor-made for professional equipment, shaft extension through high-frequency quenching treatment, greatly improve the mechanical strength, seamless connection with equipment, to achieve worry-free operation.
Hollow Shaft Electric Motor Application
MOTOR CONTRUCTION SHAPE

WEIGH

RATED POWER OUTPUT

SPPD

VOLTAGE

FOR PUMP SERIES

KG

HP

KW

RPM

100132M1-4

53.0

12.5

9.2

1450

400V

NMT NPM
1. 100132M1-4 Hollow shaft motor With NMT pump
Environment: pressure ≤ 200bar
Water temperature ≤ 65 °C
Operating environment: professional high-pressure washers, washing systems for motor vehicles, or misting systems
2. 100132M1-4 Hollow shaft motor With NPM pump
Environment: pressure ≤ 250bar
Water temperature ≤ 65 °C
Operating environment: professional high-pressure washers, washing systems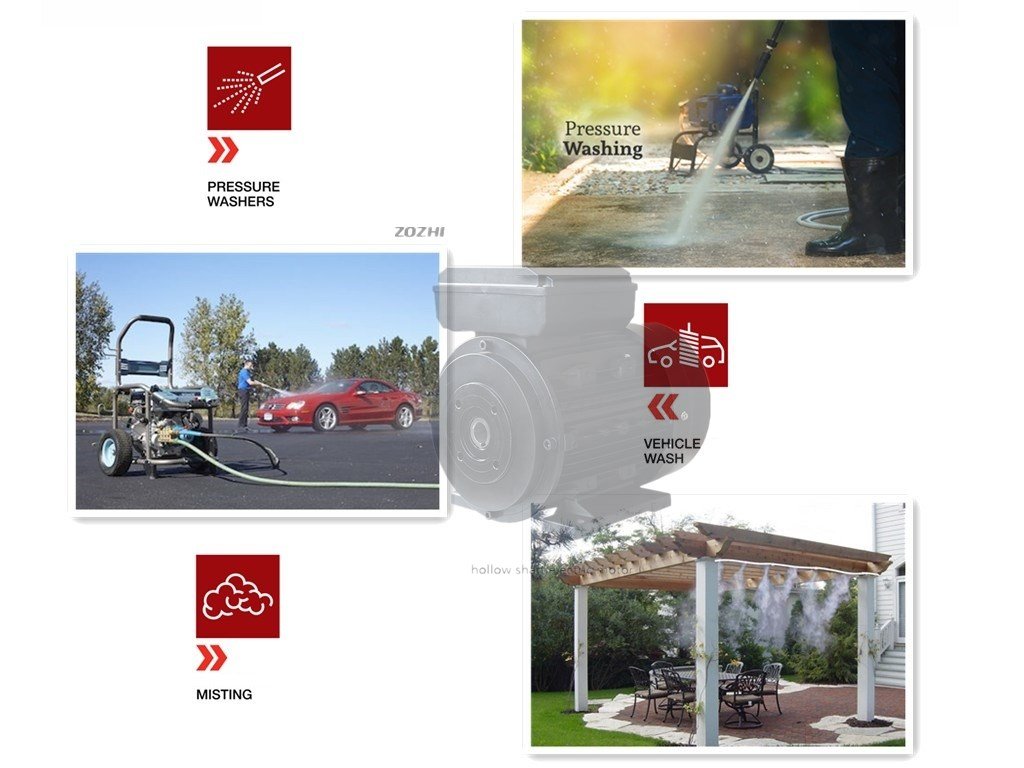 Hollow Shaft Electric Motor Data
Three-Phase 4 Poles 1500Rpm 50Hz

FRAME

POWER

RPM

COSφ

EFF.%

VOLT

AMPERE

KW

HP

P.F.

V

A

711-4

0.25

0.35

1370

0.73

64

400

0.8

712-4

0.37

0.5

1350

0.74

68

400

1.1

713-4

0.55

0.75

1350

0.75

66

400

1.6

90L1-4

1.5

2

1400

0.82

78

400

3.4

90L2-4

2.2

3

1400

0.79

77

400

5.4

90L3-4

2.6

3.5

1400

0.80

78

400

7.4

100L1-4

2.2

3

1400

0.80

81

400

5.1

100L2-4

3

4

1410

0.80

81

400

6.9

100L3-4

4

5.5

1420

0.80

82

400

9.4

100M1-4

4.4

6

1420

0.82

83

400

10

112M1-4

4

5.5

1420

0.80

83

400

9

112M2-4

5.5

7.5

1430

0.82

84

400

12.1

112M3-4

6.2

8.5

1425

0.82

84

400

13.5

112L-4

7

9.5

1430

0.80

85

400

13.8

132S1-4

5.5

7.5

1430

0.82

84

400

11.7

132S2-4

7.5

10

1430

0.84

84

400

15.4

132M1-4

9.2

12.5

1430

0.90

85

400

17.8

132M2-4

11

15

1430

0.90

87

400

21.3

132M3-4

12.5

17

1430

0.88

84

400

26

160M1-4

15

20

1450

0.86

89

400

29

160M2-4

18.5

25

1450

0.86

90

400

34