Centrifugal Water Pump SCM2 Series Double Stage Centrifugal
Centrifugal Water Pump Description
The SCM2 series double impeller centrifugal water pump is a centrifugal pump with two back-to-back compressors. It has two copper brass impellers with internal limit switches for safe operation. The dual impeller design has a higher lift than a single impeller and is used to lift clean water and non-corrosive liquids. The maximum water temperature can reach 90 °C. They are suitable for pumping clean water and chemical non-corrosive liquids. They are reliable and economical. They can be used in pressurized cleaning systems, cooling and fire extinguishing systems, industrial water supply, horticultural and agricultural irrigation applications, civil and domestic water delivery solutions, boilers, cooling. And the refrigeration system.
The multi-stage centrifugal pump has the following advantages:
1. Easy disassembly and assembly, stable operation, suitable for high lift and large flow conditions.
2. Relatively low requirements for motors and seals.
3. The multistage centrifugal water pump has a simple and compact structure. The centrifugal pump has a small area for the same delivery volume.
4. Light-weight, less material consumption, durability, convenient management, and reliable operation.
5. The rain cover can be placed outdoors for outdoor use without the need to build a pump room, which greatly saves infrastructure investment.
6. The multistage centrifugal pump head can meet different requirements by changing the number of pump stages (the number of impellers), so it has a wide range of applications.

Centrifugal Water Pump Application
They are suitable for use in civil and industrial fittings, water distribution in tank pressure groups, and horticulture and agricultural irrigation. To be used in a flow irrigation system in gardening, agriculture and industrial fittings.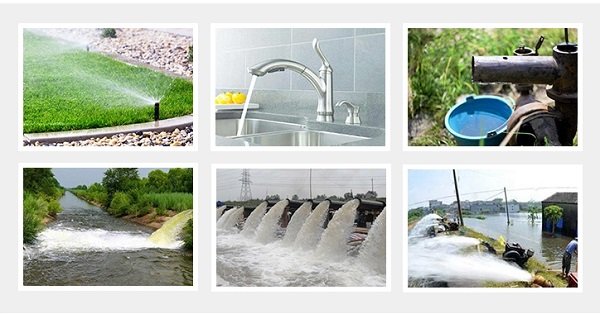 Centrifugal Water Pump Data (220V/50HZ)
Type

Power

Ampere

Q.Max (L/min)

H.Max (m)

Speed

Suction. Max (m)

Pipe Dia

L x W x H (mm)

N.W (kg)

KW HP

(r.p.m)

SCM2-45

0.75

1

5.2

90

40

2850

8

1"X1"

380x210x240

18.8

SCM2-50

1.1

1.5

7.0

105

50

1.25"X1"

415x255x320

23.5

SCM2-60

1.5

2

9.6

130

55

1.25"X1"

415x255x320

24.5

SCM2-68

2.2

3

13.5

150

65

1.5"X1.25"

480x290x350

31.0

Centrifugal Water Pump Construction
Pump
Pump Body: Cast iron
Impeller: Brass/P.P.O
Mechanical Seal: Carbon/Ceramic/Stainless steel
Motor
Single Phase
Heavy-Duty Continuous Work
Motor Housing: Aluminum
Shaft: Carbon Steel
Insulation: Class B / Class F
Protection: IP44 / IP54
Cooling: External Ventilation
Construction and safety standards in compliance with IEC
Centrifugal Water Pump Use Precautions
1. This pump must be installed in a clean, ventilated, dry place.
2. Do not pump gases containing particles, dust or gelatinous, watery, liquid and corrosive substances.
3. Do not pump explosive gases or gases with excessive oxygen.