Self-Priming Pump JET/JETS/JSW series 0.5-1Hp New Design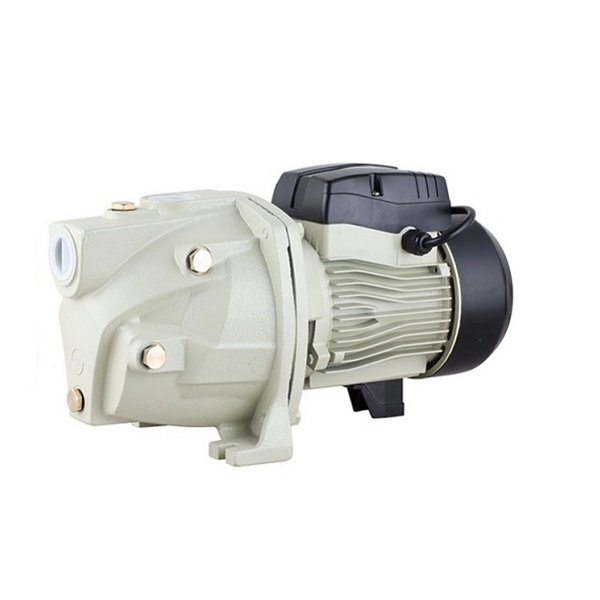 Self-Priming Pump Description
The self-priming water pump is a fluid power pump. The fluid power pump has no mechanical transmission and mechanical working components. It uses another working fluid energy as a power source to deliver low-energy liquids, which is safe for pumping flammable and explosive materials. A jet vacuum pump is a device that uses a high-speed jet through a nozzle to evacuate gas in a container to obtain a vacuum, also known as a jet vacuum pump. In chemical production, the purpose of generating a vacuum is often used. The new design self-priming pump is a high-efficiency jet pump that has good suction even with air bubbles. The pump consists of a single impeller, a centrifugal pump and a nozzle with a nozzle. It is easy to install and use, compact, portable, high efficiency, high suction stroke, etc. It is widely used in ordinary wells and steel pipe water intake in high water level areas and pressurized water supply in high-rise buildings. It is equipped with an automatic self-priming pump to achieve automatic water supply or The effect of supercharging. Suitable for water supply in-home facilities, small-scale agricultural watering and where self-priming is required.
Self-Priming Pump Application
The JET series is composed of a centrifugal pump and a jet pump (injector). The centrifugal pump is generally installed on the ground. The jet pump is installed under the well. The working principle is that the normal pressurized liquid passes through the nozzle to cause low- pressure so that the liquid in the well is sucked into the centrifugal pump. The wellhead is discharged through a centrifugal pump. Because the JET series can pump water from wells 10 meters to 50 meters deep (and any other self-priming pump and clean water pump will not exceed 10 meters) and will not be overloaded,The electric water pump suitable for clean water and non-corrosive liquids, it is widely used in wells in low water areas, factories,domestic water, small irrigation systems, pressurization, flushing, and water transfer.

Self-Priming Pump Data
Model

Power

Current

Capacitor

H.Max

Q.Max

Pipe Size

(HP)

(W)

(A)

(UF)

(m)

(L/min)

(m)

JET60-L

0.5

370

2.9

12

30/40

65/45

1"x1"

JET80-L

0.75

550

3.5

15

34/45

65/50

1"x1"

JET100-L

1

750

4.5

20

42/52

65/50

1"x1"

JETS-60

0.5

370

2.9

12

30/40

65/45

1"x1"

JETS-80

0.75

550

3.5

15

34/45

65/50

1"x1"

JETS-100

1

750

4.5

20

42/52

65/50

1"x1"

JET60-P

0.5

370

2.9

12

30/40

65/45

1"x1"

JET80-P

0.75

550

3.5

15

34/45

65/50

1"x1"

JET100-P

1

750

4.5

20

42/52

65/50

1"x1"

JSW60

0.5

370

2.9

12

30/40

65/45

1"x1"

JSW80

0.75

550

3.5

15

34/45

65/50

1"x1"

JSW100

1

750

4.5

20

42/52

65/50

1"x1"
Self-Priming Pump Construction
Pump
Pump Body: Cast iron/Brass/Stainless steel
Impeller: Brass/P.P.O
Mechanical Seal: Carbon
Diffuser Nozzle:P.P.O
Jetpipe:P.P.O
DIEEUSSOR:P.P.O/Cast Iron
Motor
Single Phase
Heavy-Duty Continuous Work
Motor Housing: Aluminum
Shaft: Carbon Steel / Stainless Steel
Insulation: Class B / Class F
Protection: IP44 / IP54
Cooling: External Ventilation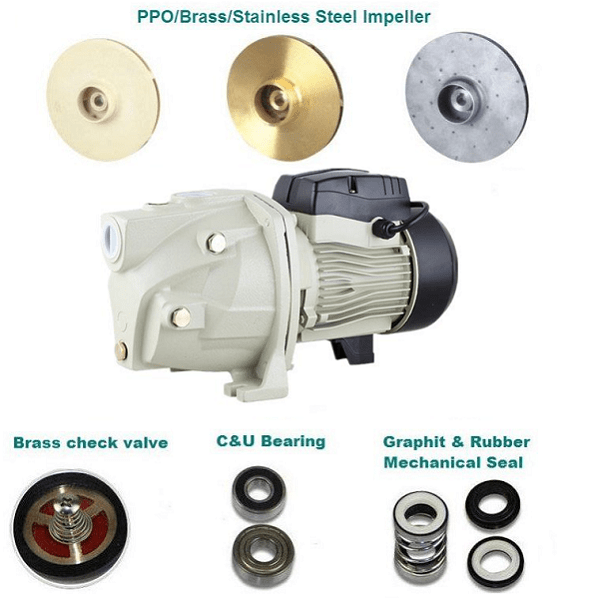 Self-Priming Pump Precautions
A. Before use, check whether the bolts in the electric pump are loose or not. The cable and plug are intact. The insulation resistance of the motor should be greater than 2 megohms.
B. In order to prevent electric shock, it is necessary to install corresponding safety measures such as leakage circuit breaker or electric shock protection device and reliably ground
C. The voltage usage range is between 180V and 230V, otherwise, the service life of the motor will be shortened or burned out. If the electric pump is used far away from the power supply, the power transmission line should be properly thickened, otherwise, the voltage will drop and it will not work.