Peripheral Water Pump ZOZHI Pump DB series 0.25-0.75kw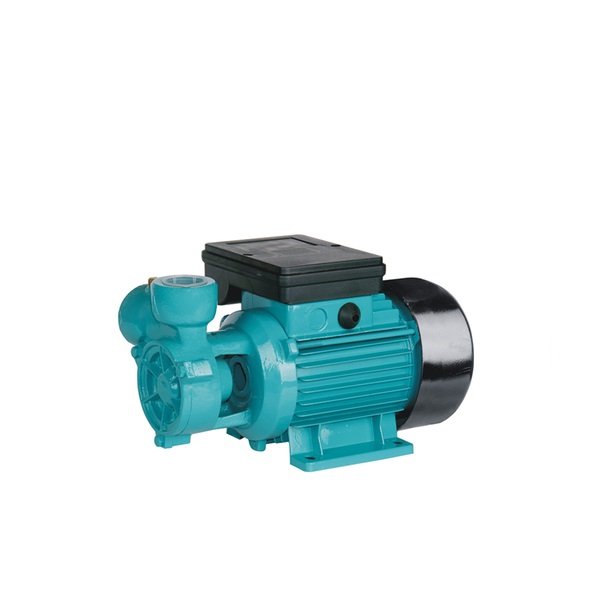 Peripheral Water Pump Description
The DB series vortex water pump is a high-efficiency electric water pump suitable for conveying clean water. It consists of three parts: motor, pump, and seal. The motor is an aluminum-shell asynchronous motor, 314 stainless steel bearings, the impeller structure is a swirling type, brass, and the peripheral impeller edge of the pump has many radial vanes. The water is tilted outward by the centrifugal mechanism caused by the impeller, and then the water rotates with the impeller to generate high pressure. A ceramic seal is used. The pump is connected to an asynchronous motor for efficient induction, with a click that fits the size, quiet, closed, external ventilation, suitable for continuous operation. The interior is equipped with a thermal protector. The professional temperature protector ensures the safe use of the motor. These pumps are small in size, light in weight, compact in structure, easy to install, energy-efficient and safe. The pump has a low flow, high lift, small size, low power consumption, and is easy to use and maintain. Suitable for treating clean water without abrasive particles and fluids that are not chemically corrosive to pump components. With the qualification of domestic accessories, the system pressure of the aqueduct can be increased, and the automatic water distribution can be realized by automatically adjusting the water tank and the hydrocele device. They are especially suitable for home applications such as water supply from wells, pools, etc., automatic dispensing of water through buffer tanks and pressure switches, gardening and increased water pressure.
Peripheral Water Pump Application
These clean water pumps with peripheral impellers are capable of providing relatively low power high pressures and have a particularly stable operating curve. Suitable for home, garden, hotel, and recirculating water pressure, municipal water supply and drainage, air conditioning water circulation, agricultural engineerings, such as irrigation, drainage and flooding, industrial water supply systems, fire protection systems, heating system water supply, and drainage, clean water transportation, etc.

Peripheral Water Pump Data ( 220V/50HZ )
Type

Power

KW HP

Q.Max (L/min)

H.Max (m)

Speed

(r.p.m)

Suction. Max (m)

Inlet/Outlet

DB-125

0.25

0.16

32

32

2850

9

1"X1"

DB-330

0.37

0.50

35

35

1"X1"

DB-550

0.55

0.75

45

50

1"X1"

DB-750

0.75

1.00

50

55

1"X1"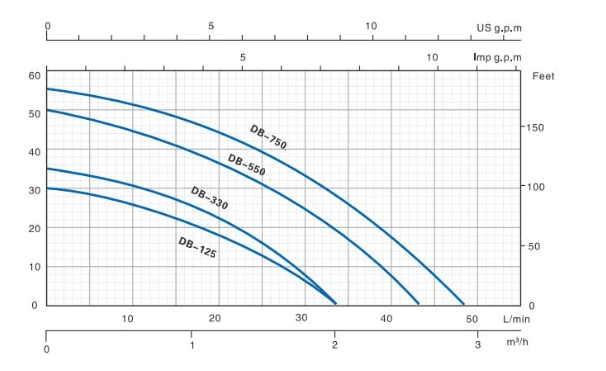 Peripheral Water Pump Construction
Pump
Pump Body: Cast iron
Impeller: Brass
Mechanical Seal: Carbon
Frant Cover: Cast iron

Motor
Single Phase
Heavy-Duty Continuous Work
Motor Housing: Aluminum
Shaft: Stainless Steel
Insulation: Class B / Class F
Protection: IP44 / IP54
Cooling: External Ventilation
Construction and safety standards in compliance with IEC
220V/50HZ.60HZ 110V/50HZ.60HZ 220v.110v/50hz.60hz are available on request.
Peripheral Water Pump Use Precautions:
Before preparing to install the pump, first check whether the firmware of each part is loose or not. There is no foreign matter jam in the pump flow path, so as to avoid the situation that it cannot be cleaned after the later installation. Check the water source and water level before use. In order for the pump to work properly, it should be installed in a covered area or in a closed environment. Avoid using pumped water or non-corrosive liquids, and no sand or other solid impurities.