Peripheral Water Pump Single Phase PM Series 0.37-0.75KW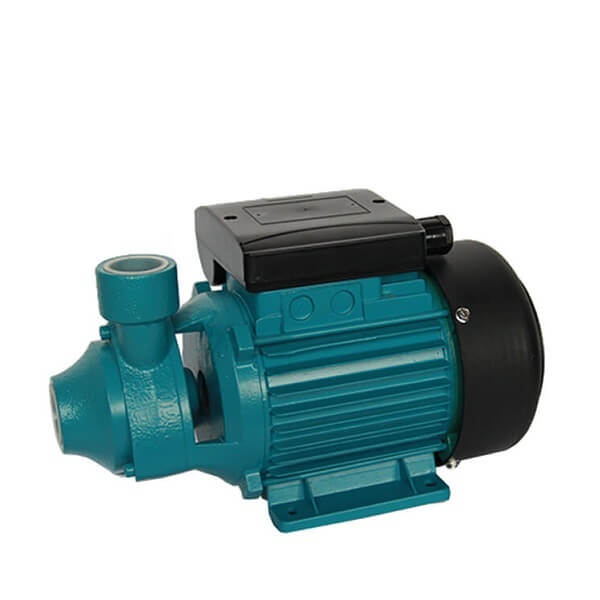 Peripheral Water Pump Description
The PM series electric water pump is single-phase water pump consists of three parts: motor, pump, and seal. The motor is an asynchronous motor. Turbine brass impeller with tight tolerances between the two cast iron pump faces, the impeller structure is a swirling type, high-quality mechanical seal to prevent leakage. Stainless steel shaft, not easy to rust, 100% copper wire stator core copper wire, make the motor work low temperature, stable, long working life, with thermal protector, professional temperature protector to ensure the safe use of the motor. These have Small size, light-weight, compact structure, easy installation, high efficiency, energy-saving, safety and so on. Suitable for treating clean water without abrasive particles and fluids that are not chemically corrosive to pump components. It has a variety of appearances and casings to meet different operational requirements and can be widely used for water delivery. Its typical use is from households or small businesses from wells or ponds to left water. The vortex water pump is also suitable for pressurized water supply, gardening water or other Components together form an automatic water supply system.
Peripheral Water Pump Application
The peripheral water pump has been used extensively for hundreds of years, where clean water needs to be moved under good pressure. Peripheral water pump for water transfer, booster pump automatic fire system and cooling tower application in fire protection system. Automatic fire extinguishing system, small air conditioning system or ancillary equipment, they are also suitable for small household water supply and water storage tank, watering the garden Automatically dispense water and increase insufficient tap water pressure.

Peripheral Water Pump Data ( 220V/50HZ )
Type

Power

KW HP

Q.Max (L/min)

H.Max (m)

Speed

(r.p.m)

Suction. Max (m)

Inlet/Outlet

PM-45

0.37

0.50

36

36

2850

9

1"X1"

PM-50

0.55

0.75

45

50

1"X1"

PM-60

0.75

1.00

50

60

1"X1"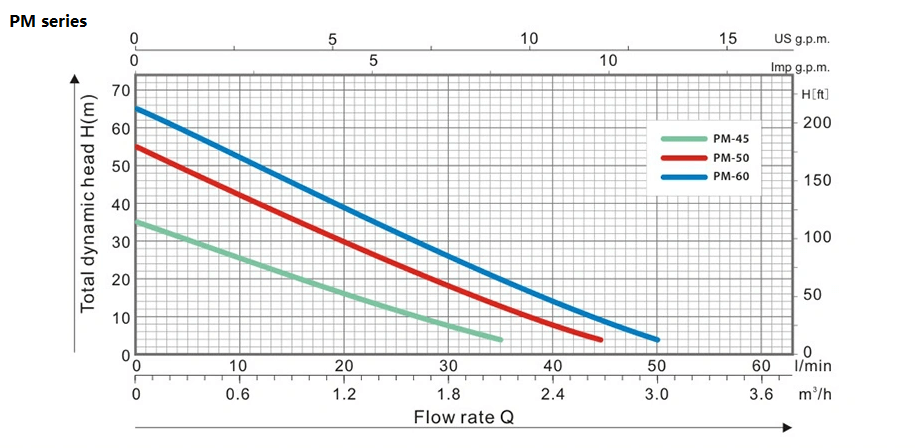 Peripheral Water Pump Construction
Pump
Pump Body: Cast iron/Brass/Stainless steel
Impeller: Brass
Mechanical Seal: Carbon
Frant Cover: Cast iron/Cast iron with a brass insert/Stainless steel

Motor
Single Phase
Heavy-Duty Continuous Work
Motor Housing: Aluminum
Shaft: Carbon Steel
Insulation: Class B / Class F
Protection: IP44 / IP54
Cooling: External Ventilation
Construction and safety standards in compliance with IEC
220V/50HZ.60HZ 110V/50HZ.60HZ 220v.110v/50hz.60hz are available on request.
Peripheral Water Pump Use Precautions:
These vortex water pumps should be installed in a covered area, protected against the weather. In order to operate the pump properly, please use pumping physical or chemical transfer of clean water or other liquids or non-corrosive liquids similar to water, without sand or other impurities.
Max. fluid temperature +60℃
Max. ambient temperature +40℃
Max. solid impurity:0.1%,Max. particle size: 0.2mm.